About Candela GentleMax Pro
Laser hair removal is one of the most common aesthetic services in America and a convenient option for the long-term reduction of hair on the face and body. At DeRosa Clinic Plastic Surgery, our team is proud to offer Palm Beach, FL men and women hair removal services using the latest in laser technology, the Candela GentleMax Pro. This advanced laser system works quickly and comfortably to safely remove excess or unwanted hair, leaving the skin feeling and looking smoother for a lasting result. If you wish to get rid of hair on your face, arms, legs, back, chest, and armpits, reserve a consultation with our skilled team today. We can help you determine if laser hair removal with the GentleMax Pro is ideal for meeting your aesthetic goals.
Reviews
"Jaimie, Thank you so much for inviting me to the DeRosa Clinic. It was truly the BEST facial I have ever received. I also felt so welcomed by you and your team. Thank you for your kindness and generosity. I look forward to the next time I will get to see you! I am so inspired by what you have created and I look forward to celebrating your success as you expand your business! Wishing you have the happiest holiday season! With love,"
- Anonymous /
Office Visit /
Sep 14, 2018
"I am here to preach the gospel of the DeRosa Clinic.My story: I moved to Boston for graduate school, and I asked my esteemed SF-based doctor for a recommendation in the Boston area, and he directed me to Dr. DeRosa. I now live in Washington, DC, and I trust Dr. DeRosa so much that I called her office for dermatologist contacts in DC. How I wish I still lived in Boston so I could continue seeing Dr. DeRosa!My experience: Walking into the DeRosa clinic was like getting a much welcome dose of sunshine. The women staffing the front desk were always extremely warm and welcoming. Being so far from home, I felt well attended to and well taken care of. As I write this, I miss them so much!Dr. DeRosa was beyond fantastic. She not only addressed every concern of mine, no matter how trivial (eg, the tiniest skin irritation), but she did so with aplomb, grace, and vivacity. And I mean what I say. Dr. DeRosa was not only an extremely skilled doctor, but she was also unbelievably charismatic and caring. I left her offices, not only with my health concerns addressed, but with Soul Cycle class recommendations and networking tips!On-site, Dr. DeRosa also has the most skilled aesthetician. I literally would go from Dr. DeRosa's office, where she would pinpoint a skin issue, to the room next door, where an aesthetician would perform a rejuvenating facial. I would look at my skin the next day, and it would look brand-spanking new. I don't think anyone can compete with that.I now live in Washington, DC for work, and I must confess, I miss Dr. DeRosa, her staff, and the office IMMENSELY. For those of you who are close enough to be able to have De. DeRosa as your doctor, you couldn't be more lucky!"
- A.P. /
Yelp /
Jan 08, 2021
"Excellent and highly qualified. She's busy because she's fantastic. Her results reflect her perfectionism and caring. Best in Boston. Staff great. Facility is top notch."
- J.M. /
Google /
Dec 19, 2020
"Dr. DeRosa did a perfect job on my rhinoplasty.  I saw age and gravity were accentuating the bulbous tip and drawing down my profile when smiling.   Jaimie clearly heard and saw the issue, expressed her vision,  and performed professionally to give me the best result.  I am very pleased.    It looks great and just like the computer image initially projected.  Moreover, she is very tuned in and caring.   She is a lovely, highly trained, artistic, and perfectionistic.  The facility was topnotch.  I consulted with my doctor friends, even another top Rhinoplasty guy in Brookline, and I chose Dr.  DeRosa based upon my research which highlighted her training/skills, communication,  and followup care.  Her staff is great.  She consistently has the same topnotch anesthesiologist.   I was made to feel comfortable.  My result is just what I wanted.  I would not hesitate to recommend her for any cosmetic procedure."
- J.M. /
Yelp /
Dec 13, 2020
"Dr. DeRosa did a rhinoplasty on me, a woman of 62, to address a bulbous tip that angled down. She did a spectacular job. She is also one of the warmest most personable surgeons one could want. She explained the procedure and did excellent follow up in her comprehensive, modern office/facility on Newbury Street in Boston. Her whole staff, including the anesthesiologist was informative and supportive. I highly recommend her perfectionist skills at plastic surgery."
- J.B. /
Healthgrades /
Dec 13, 2020
Previous
Next
Laser hair reduction with GentleMax Pro is a safe, noninvasive process for men and women of most skin types. Ideal candidates for laser hair removal treatments:
Want to reduce hair on their face or body
Frequently experience ingrown hairs
Are in good overall physical health
Do not have cuts, sores, or skin irritation in treatment areas
Wish to stop using other hair removal methods (waxing, shaving, plucking, bleaching, depilatory creams)
On the day of your laser hair removal procedure, we will have you relax in a private treatment room and clean the designated areas to remove dirt, oil, and lotion. One of our trained physician assistant will then slightly stretch the skin in the treatment area to provide a clear pathway between the GentleMax Pro laser handpiece and the hair follicle root. The laser energy will emit a gentle heat to target and destroy the hair follicle, preventing it from growing again. Many individuals require between 4 – 6 sessions to achieve ideal results. These visits are typically spaced out over the course of several weeks to give the treated areas time to recover. Performing laser hair removal at such intervals also allows time for the hair follicles in the dormant phase to progress to the active growth phase, which enhances the effectivity of laser treatment.
Although this hair removal procedure is gentle, the treated area of your skin may look as if it has a mild sunburn following the use of laser. Any redness or skin tenderness you experience should subside within a day. After your treatment, you will be free to go about your daily activities, but you should refrain from strenuous activity or sun exposure for 24 hours so the skin may heal. Anti-inflammatory creams or ice packs can be applied to the treatment areas to help manage any mild discomfort.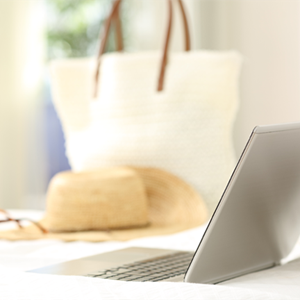 Enjoy smooth, silky skin without spending time and energy on shaving, waxing, and plucking. Laser hair removal offers a safer, faster alternative to ridding unwanted hair on the body and face while generating long-term results. Schedule a consultation at DeRosa Clinic Plastic Surgery in Palm Beach, FL today to learn more about laser hair removal with the advanced Candela GentleMax Pro laser system.
Related Posts