Are you wearing turtlenecks or scarves, even in the summer to hide the loose, flabby skin on your neck? At DeRosa Clinic Plastic Surgery in Palm Beach, FL, we provide neck lift surgery to improve the appearance of an aging neckline. This cosmetic surgery tightens the area beneath your chin and along the neck to remove a "double chin" or "turkey neck." By taking away the loose skin and fat while using a tightening technique to result in a smoother, natural neckline, a neck lift can provide striking enhancements to your profile. Read more about neck lift surgery and review our before-and-after photos.
Reviews
"Jaimie, Thank you so much for inviting me to the DeRosa Clinic. It was truly the BEST facial I have ever received. I also felt so welcomed by you and your team. Thank you for your kindness and generosity. I look forward to the next time I will get to see you! I am so inspired by what you have created and I look forward to celebrating your success as you expand your business! Wishing you have the happiest holiday season! With love,"
- Anonymous /
Office Visit /
Sep 14, 2018
"The staff and Dr DeRosa are amazing......"
- J.A. /
Facebook /
Dec 10, 2019
"What a phenomenal experience!! The staff is lovely, welcoming and knowledgeable and Dr. DeRosa brings next level talent to the area. I will never go anywhere else. Thrilled with my results!"
- J.F. /
Google /
Oct 31, 2019
"Palm Beach surrounding areas"
- A.J. /
Facebook /
Sep 25, 2019
"Dr Jaimie DeRosa is double board certified facial plastic surgeon."
- A.G. /
Facebook /
Jun 21, 2019
Previous
Next
Is Neck Lift Surgery For You?
Men and women considering neck lift surgery generally have visibly loose, hanging skin along the neckline. The loose skin is usually caused by many factors, including aging and significant weight loss. Whatever the reason may be, loose neck skin produces an unflattering look, which in most cases can only be addressed with skin excision and a tightening technique. If your weight is stable, but you feel embarrassed by sagging folds of skin, surface lines, and wrinkles along the neck, a neck lift treatment may be a great option for you.
During a neck lift treatment, general anesthesia is used. During the surgery, we make incision points behind or in front of your ears or underneath your chin. If pockets of fat exist, the first step is to perform liposuction and remove excess fat. Next, any sagging or hanging skin is carefully excised. After removing the fat, we pull the underlying tissue and remaining skin tight. This method of skin tightening is performed until we have achieved the desired contour. Although we sew sutures at the incision area, scarring is usually not noticeable because we place them under your chin and behind your ears. During your surgery, we might also use a nonsurgical fat reduction injection, such as Kybella, to enhance the results. In addition, other nonsurgical alternatives can help the skin's texture, such as microneedling with PRP and chemical peels, to create a glowing, younger-looking appearance.
After a neck lift, you will probably have some bruising, swelling, and moderate discomfort, but these will go away in a few days. To ensure patients have a healthy, safe recovery, it's important to rest and avoid exercise, strenuous movements, and activities for the next couple of weeks. During this time, patients should avoid fitted tops. You should see visible outcomes almost immediately. Also, neck lift surgery can make a huge impact to an individual's profile, shaving years off their appearance.
Frequently Asked Questions
How much does a neck lift cost?
During your consultation, we will create a treatment plan and discuss the cost of your neck lift. As soon as one of our doctors has developed your treatment plan, we will estimate prices for the anesthesia, facility, and more. To make your neck surgery easier to afford, DeRosa Clinic Plastic Surgery takes many payment methods and offers information on low-interest financing.
What about nonsurgical options?
Surgery is the best way to eliminate loose skin, particularly if it hangs or droops. While we offer several nonsurgical skin tightening treatments, surgery can dramatically smooth and redefine the contours of your neck. A popular minimally invasive treatment called Kybella reduces fat in the upper neck, which causes a double chin; however, it doesn't improve excess skin.
Will I have visible scars?
Neck lift surgery does require an incision beneath the chin, as well as two more near the ears. However, these are made so the scars are difficult for others to see. During neck lift surgery, we try very hard to avoid visible scarring. A team member will provide scar care instructions to help your incisions heal properly so they are thin and flat.
Can I combine a neck lift with other facial surgeries?
At your consultation, we can discuss your other goals and additional treatments, like a facelift or a chin implant. To achieve the best results, it is common for these additional procedures to be combined. If you are concerned about a weak chin or undefined jawline, tell us so we can create a comprehensive treatment plan.
Should I get a neck lift or liposuction?
Depending on your needs and goals, you may want to get a neck lift with liposuction. This may work best if you have both excess skin and pockets of fat in your neck. We can help you decide whether a lift, liposuction, or a combination of both treatments should be part of your surgical plan.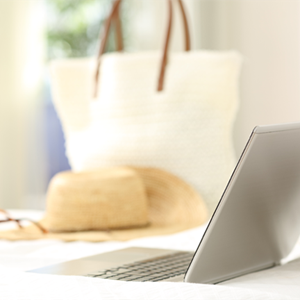 Get rid of your "turkey neck" appearance and attain the slim, tighter, and smoother neck you want. If you feel embarrassed about loose skin and wrinkles on your neck, we invite you to contact DeRosa Clinic Plastic Surgery in Palm Beach, FL to speak with one of our friendly staff members. Cosmetic neck lift surgery has changed the physical appearance of countless men and women. At DeRosa Clinic Plastic Surgery, we proudly offer neck lift surgery to help improve patients' confidence.
Related Procedures